If you use WordPress (self hosted version), Ping.fm and Bit.ly. You're lucky today :)
I just released Shorten2Ping, a new plugin for WordPress that automatically sends status updates to Ping.fm using your personalized message and shortening the permalink of the post using Bit.ly.

This way, your WordPress installation notifies to Ping.fm about the new post, and Ping.fm spreads the same to Twitter, Facebook, and all networks configured in your Ping.fm profile :D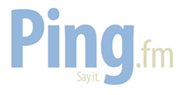 For me this's a great way to spread my new blog posts without having to login in many different networks. And it's true that I found some other plugins for the WordPress+Ping.fm integration, but honestly I thing thar they're too big and complicated for my needs, and none of them have Bit.ly integration. So I have decided to share my little simple plugin with everyone who find it useful. The plugin is licensed under the GPL v3, so feel free to improve it by yourself (and share the improvements! ;)).


Some Shorten2Ping features:
Avoids to ping again when editing previously pinged post or even when editing an old post not pinged before.
Option to choose between Ping.fm or Twitter for new post notifications.
Option to choose between bit.ly, tr.im, YOURLS, su.pr, is.gd, j.mp, wp.me, cli.gs or even you own domain for shortened permalinks.
Option to turn off notification or shortener service. Now you can use Shorten2Ping only for notification if your domain is already short enough for you, or use only to get shortened urls for your posts.
Stores created shortened permalink in a post meta field (used for template integration).
Using rel="shortlink" like in wp.me http://wp.me/sf2B5-shorten, creating auto-discovery link tag for the short link on single post page header.
You can use a template tag for showing visitors the short URL (using the same rel attribute as above for the shortened permalink).
Locale support. Now available in English, Spanish, Italian and Traditional Chinese (zh_TW). See translation section for more info.
WPMU compatible (you can have different settings for each blog).
Simple, fast, and useful :)
Requirements:
PHP 5.x with CURL and JSON enabled (maybe works too in PHP4, but not tested and not supported by me).
WordPress 2.7.x or higher (maybe would work on older WP, but not tested and not supported by me).
Required your own account for the third party services that you want to use.
Not tested and not supported on IIS servers.
You can download Shorten2Ping from WordPress extend directory and begin to forget about notifying your new blog posts manually in different social networks.
If you like this plugin, please rate it at WordPress.org extend directory, or make some donation. It'll motivate me to improve the plugin ;)
NOTE: Shorten2Ping is not affiliated in any way with Ping.fm, Bit.ly, Tr.im or any other shortener site. This is only a personal project.